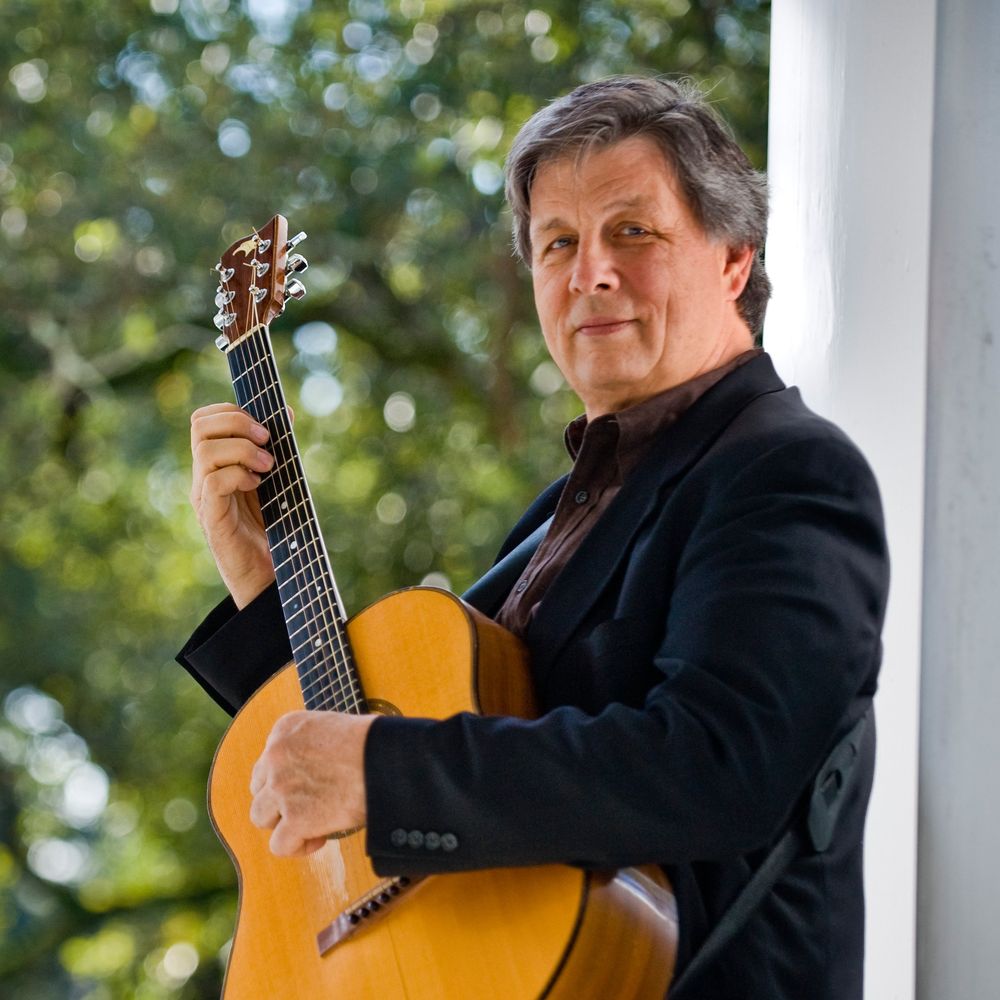 JOHN RANKIN
John Rankin is a accomplished New Orleans musician and performer. He has been described as a New Orleans hybrid of Leo Kottke and Chet Atkins, but his expansive style covers many genres.
A versatile master of solo acoustic guitar, he blends New Orleans feel and charm with originals, jazz, classical guitar, folk, blues, rhythm and blues, and the American songbook.
He is also known as a powerful singer/songwriter with a wide array of songs, vocal and instrumental, that reflect his broad approach. His powerful harmonica playing, in sync with his guitar, adds a real impact to his songs and stories.
He has been a featured performer at the New Orleans Jazz and Heritage Festival since 1981. Although best known as a soloist, he performs with many ensembles, including the New Orleans Guitar Masters, the NOLA String Kings, and The Classic Jazz Trio. He was named a Jazz All-Star by New Orleans Magazine in 2007, and won two Big Easy Awards for Best Folk Music (1992 and 2002). He also was a winner of the 1985 American Finger-Style Guitar Festival.
He has taught guitar and songwriting at Loyola University New Orleans for over thirty years, as well as Tulane University, University of New Orleans, and Xavier University. He was given a Lifetime Achievement Award in Music Education award in 2012 by Offbeat Magazine for his commitment to teaching.
He currently has four CD's available. In March of 2010 he produced, recorded, and released The Classic Jazz Trio, a CD of New Orleans traditional jazz with clarinetists Tom Sancton and Tom Fischer. In April 2008 he released the CD Last in April First in May, an original instrumental guitar album. His 2005 CD, Fess' Mess, an eclectic mix with solos, duos, trios, and bands playing New Orleans jazz, R & B, and original vocals and instrumentals. In 2002 he released Guitar Gumbo, a solo guitar CD with a variety of New Orleans musical styles, which was voted a top ten Louisiana CD for 2002 by Gambit magazine and top 20 Louisiana CD for 2002 by The New Orleans Times Picayune States Item. He previously released an album of original music, Something I Ate.
Among his other performances, he plays every Tuesday at the Columns Hotel on St. Charles Avenue in its beautifully restored Victorian ballroom. Each week he brings in different musician friends to join him.
"A music connoisseur's treat...Rankin's talent cannot be overstated...accomplished guitar virtuoso." WHERE Y'AT Monthly Magazine
"Formidable guitar playing...impeccable technique..." "A scholar of New Orleans music and all things six-string." GAMBIT Weekly Magazine